Atal Bihari Vajpayee, India's 10th Prime Minister, was born on December 25, 1924. He served two terms as Prime Minister, first from 1996 to 1998 and then from 1999 to 2004. He was a co-founder and senior leader of the Bharatiya Janata Party (BJP), a right-wing Hindu nationalist party. Notable accomplishments during his tenure as India's Prime Minister include the 1998 Pokhran-II nuclear tests, the introduction of economic reforms that liberalized the Indian economy and attracted foreign investment, the construction of the Golden Quadrilateral, the launch of the Sarva Shiksha Abhiyan, and the initiation of a peace process with Pakistan that led to the Lahore Declaration in 1999. Atal Bihari Vajpayee quotes offer valuable insights into the qualities of honesty and vision that define a true politician.
"You can change friends, but not neighbors."
"Quiet diplomacy is far more effective than public posturing."
"I have a vision of India: an India free of hunger and fear, an India free from illiteracy and want."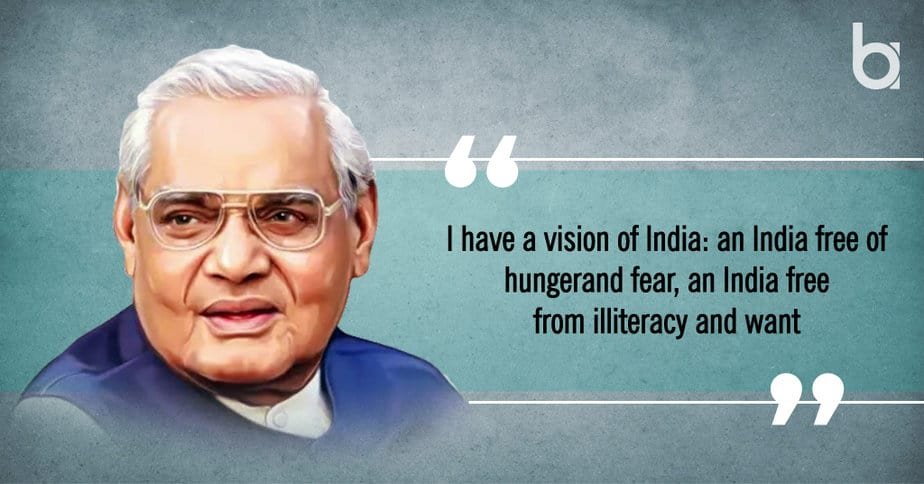 "Our nuclear weapons are meant purely as a deterrent against nuclear adventure by an adversary."
"I believe that democracy is the best guarantor for peace and cooperation among nations."
"Let me make one thing clear. I have never considered mere survival in power as any achievement, just as I have never seen coming to power as an achievement in itself."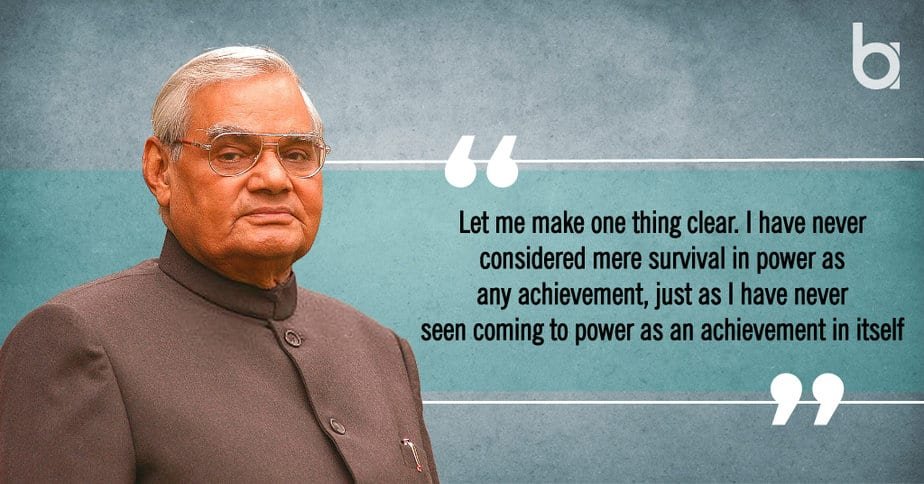 "No one can be considered untouchable on political grounds."
"I am contesting elections since 1952, but never did I throw mud."
"India has the sanction of her own past glory and future vision to become strong – in every sense of the term."
"I would like that no citizen of the state feels alone and helpless. The entire nation is with them."
"We hope the world will act in the spirit of enlightened self-interest."
"While accepting donations, no one looks at the color of money."
"We should always care for the minorities and be attentive towards their welfare."
"Ours is a multi-religious country, a multi-lingual country; we have many different modes of worship. We believe in peaceful and harmonious co-existence."
"I have never been a traitor. I am not an informer; I never betrayed my nation."
Atal Bihari Vajpayee was a man of many words, but his quotes were always meaningful and thought-provoking. He had a deep understanding of the world and its problems, and he was always willing to speak out for what he believed in. He always believed in his vision of a free and modern India. He was not only a true patriot but also a secular leader. Atal Bihari Vajpayee quotes are still relevant today, and they continue to inspire people all over the world.
ALSO READ: 20 Famous Dr.Babasaheb Ambedkar Quotes defining his Legacy