The history of Nike is worth a read for anyone who's interested in sporting goods or how businesses are established and grown. We have hence penned down an outline that would help one get an idea of how this successful company known as Nike, started and made its position in the market.
From starting Nike Fit —an application-based solution for foot measurement that finds your perfect shoe size, to elevating and engaging women athletes, positioning women forward for over 40 years, besides also combining timeless looks with the latest technology and delivering a modern performance. Nike has done it all and has never failed to provide the best to its consumers.
The story of Nike began when Phil Knight and Bill Bowerman founded Blue Ribbon Sports back in 1964. After founding Blue Ribbon Sports, Phil Knight explored and examined his imported shoes, started by selling them out of his car when he came back to the United States. It rapidly became very clear that a demand existed for these high-quality yet cheaper alternatives to the Adidas and Puma shoes, which dominated the market back then.
History of Nike and Its Establishment
In 1965, Bill Bowerman put forward a new shoe design in front of the Tiger Shoe Company, a design that was made to provide the perfect support for runners with a cushioned and comfortable innersole, soft sponge rubber in the forefoot and top of the heel, hard sponge rubber in the middle of the heel, and a firm rubber outsole.
This design turned out to be both a major accomplishment and a source of dispute between Blue Ribbon and The Tiger Shoe Company, the shoe was launched in 1967 and became an instant hit for its comfortable, athletic, and fashionable design.
Around the time of their success, though, relations got bitter between Blue Ribbon and Tiger. This resulted in the split of Blue Ribbon Sports and Tiger shoe company in 1971.
Reason behind the Brand Name
After the split with Tiger Shoe Company, Blue Ribbon Sports fully rebranded itself as Nike, headquartered in Beaverton, Oregon. Today, it is the largest and most successful brand of shoes, sports equipment, clothing, and controlling quite 60% of the market. Phil Knight was planning to name the company as "Dimension 6", but Jeff Johnson got the inspiration for Nike after seeing the Greek goddess of victory name during a dream, and that's how the name was derived. On the other hand, even Tiger Shoe Company rebranded itself, and is now known as Tiger's modern incarnation, Asics.
Nike logo: Invention of the Swoosh logo
Nike's Swoosh design logo was designed by Portland State University graphic design student Carolyn Davidson when requested by Phil Knight. Knight needed a logo to put on the side of his company's shoes. The swoosh design logo exemplifies the Sound of speed, Movement, Power, and Motivation.
At that time, Carolyn Davidson was paid $35 for the logo, and also worked with Nike for a few years until they needed a full ad agency. Twelve years later, in 1983, Ms. Davidson was gifted a gold Swoosh ring with a diamond embedded in it at a luncheon honoring her for the remarkable work, alongside a certificate and an unannounced amount of Nike stock, in remembrance of the Swoosh design logo.
Since then, Nike has only continued to grow, it also launched a series of creative ad campaigns, most famously the 1988 "Just Do It" ad campaign, which was inspired by the last words of American murderer Gary Gilmore, before the firing squad, "Let's do it."
Joint Effort & Collaborations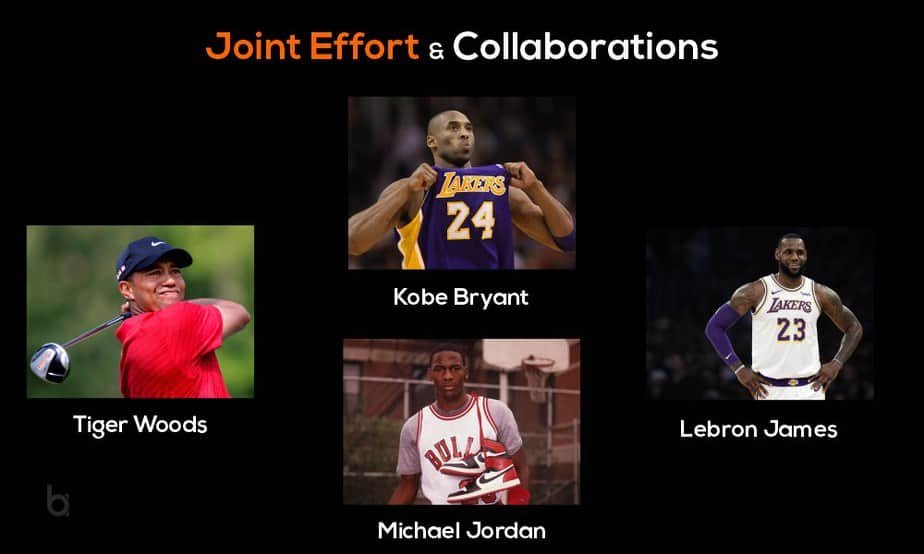 The other greatest asset of the company has been its celebrity endorsements. They started signing athletes like Tiger Woods, Kobe Bryant, and Lebron James in the early stages of their careers.
To date, the most cost-effective endorsement in the history of Nike, both for the company and its sponsor has been with Michael Jordan. Despite having never worn a pair of Nikes before in his life, and holding on to hope for a deal with Adidas; Jordan ended up signing on with Nike after a meeting in which they promised the soon-to-be star $500,000 a year for five years, two die-cast Mercedes cars, and shoes customized to his specific requests. What would be more amazing?
The deal proved an absolute hit in the history of Nike, with Jordan quickly rising to Mega-stardom and his shoe line- Air Jordans, hitting the market to make over $100 million in revenue by the end of 1985. Air Jordans continue to be a cash cow for Nike. Despite some recent declines in sales, the brand still nets the company a staggering $2.8 billion in sales for 2018. Jordan continues to make roughly $100 million a year in Nike royalties alone.
Facing the Wrangles
The history of Nike includes few controversies too. Nike has collaborated with more than 700 stores around the world and has offices located in 45 countries outside the states. Most of the factories are based in Asia, including China, Vietnam, Malaysia, Taiwan, Thailand, India, Pakistan, and Philippines. Nike has not yet disclosed any information about the companies Nike has collaborated with. However, because of severe criticism from some organizations like Corp Watch, Nike has revealed some information about its contract factories in its Corporate Governance Report.
During the 1990s, Nike faced criticism for the utilization of kid labor in Cambodia and Pakistan factories it contracted to manufacture soccer balls. Even though Nike took steps to curb or a minimum of reducing the practice, they still contract their production to the companies. These companies that operate in areas with inadequate regulation and monitoring make it difficult to track if child labor is being utilized.
In 2001, a BBC documentary uncovered occurrences of kid labor and poor working conditions during a Cambodian factory employed by Nike. The documentary focused on six girls, who all worked seven days every week, often 16 hours each day.
Some of the Major Nike Product Lines:
By and Large
While Nike may have had a lot of fluctuations and would have faced difficulties since its first launch but the brand is here to stay for quite a while longer and would keep designing and creating stuff that people would love. The success story of this brand is novel and creative, blazing the trails for many modern sporting goods companies. Today, many Nike purists would only work when decked out in Nike's offerings.
After a really long and serpentine history of Nike, it has grown to be people's most loved brand for sporting goods. It keeps creating and delivering innovative products every season and never disappoints its consumers. The Unique Selling Point of the brand is that they focus on the best quality shoes for athletes and are also into prominent sponsorship with star athletes. Their most expensive Product Line is Nike Lebrons. The annual revenue of Nike was more than $24 Billion in 2012 and the brand keeps making profits worth hundreds of million dollars every year.
Another sign of success for Nike could be the high rise of copies and knockoffs. Many markets provide sporting goods such as shoes, clothing, apparel that have a similar or even identical logo to the Nike one. Although, we'd have to purchase from the original brand if we want the warranties and quality that come with it!
Nike Shoe Timeline
Also read: History of Windows