The history of hospitality and tourism in the Asia-Pacific region presents a captivating narrative that spans centuries. This region boasts some of the world's oldest and most renowned tourist attractions, including India's Taj Mahal, China's Great Wall, and Cambodia's Angkor Wat.
The modern hospitality industry in the Asia-Pacific region began its ascent during the late 19th century as a result of European colonization. These colonists established hotels and amenities primarily catering to their fellow Europeans. By the early 20th century, visitors from around the world, including the United States and Australia, began to explore the region.
Today, the hospitality and tourism industry in the Asia-Pacific region thrives, driven by factors such as its growing economy, population, and cultural richness. This region ranks among the world's most sought-after tourist destinations, and its hospitality sector plays a pivotal role in its economic prosperity.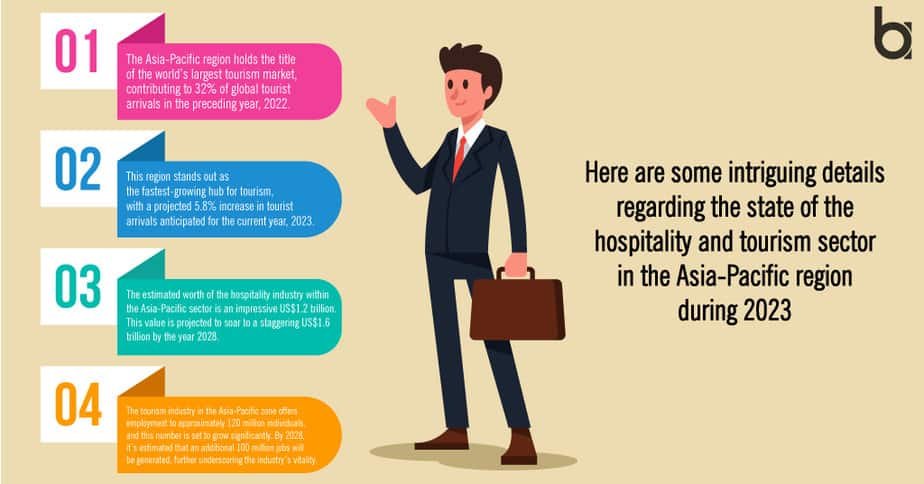 Parallel Journeys: Hospitality and Tourism
Hospitality and tourism share a unique bond, centered on delivering exceptional service to travelers and creating unforgettable experiences. These fields thrive on flexibility and innovation due to their dynamic nature and competitive environments. Effective marketing plays a pivotal role in attracting clients to these domains, while adept communication is a foundational skill for addressing diverse customer needs.
Hospitality embodies the act of warmly welcoming and caring for guests. This hospitable spirit can be expressed by individuals, businesses, or organizations. The hospitality sector includes various establishments, such as hotels, restaurants, resorts, and more, all dedicated to providing food, accommodations, and other amenities to visitors.
Tourism involves the exciting journey of traveling to and staying in a destination for leisure, business, or other purposes. The tourism industry encompasses businesses that offer transportation, accommodations, activities, and various services to travelers.
The interconnectedness of hospitality and tourism is evident, as both revolve around serving individuals on the move. While the hospitality sector addresses fundamental needs like sustenance and lodging, the tourism industry orchestrates activities and experiences that satisfy the desires of travelers.
Exploring Careers in the Tourism Industry
The tourism industry offers numerous career opportunities that cater to various interests and skill sets. Some of the prominent roles include:
1. Hotel Manager – $49,000 per year
In tourism management, a hotel manager's role is diverse, encompassing responsibilities ranging from budget management and staff supervision to ensuring exceptional guest experiences. The quality of products and services plays a pivotal role in creating lasting impressions on guests. Amidst various positions such as clerks, housekeepers, and accountants, the manager orchestrates these elements, crafting memorable stays that are crucial for the success and reputation of the establishment.
2. Flight Attendant – $40,700 per year
In the dynamic realm of air travel, flight attendants play a pivotal role in warmly welcoming passengers, ensuring their comfort, and handling conflicts and emergencies. Similarly, luxury cruise services offer enticing career paths where ship managers blend hospitality, travel, and entertainment to provide seamless voyages. Across the hospitality and tourism sector, diverse roles thrive, shaping remarkable travel experiences. Flight attendants and cruise managers exemplify the core values of hospitality, thereby defining the global travel experience.
3. Restaurant Manager – $45,700 per year
In the realm of food services, hospitality graduates go beyond merely serving meals; they are responsible for crafting memorable dining experiences while prioritizing safety. Restaurant managers oversee staff, schedules, inventory, and administrative duties, combining creativity, knowledge of regulations, and financial skills. Culinary enthusiasts can further excel by pursuing culinary studies, leading to roles such as chefs, waiters, and sommeliers, thereby enriching the culinary landscape.
4. Entertainment Manager – $52,900 per year
In the hospitality and tourism industry, the role of an entertainment manager is dynamic and enjoyable. As an entertainment manager, your responsibilities include organizing various activities, sports events, quizzes, and star-studded shows that cater to diverse guest preferences. Embracing technology and securing top talents, you will elevate event planning standards, ensuring unparalleled enjoyment and success. Other enticing roles in the field include adventure tour guiding, amusement park management, and show management.
5. Event Planner – $47,700 per year
As an event planner, you coordinate all facets of an event, from catering to meeting guest needs. This entails venue selection, transportation coordination, and meticulous problem-solving. Ideal for individuals who value the happiness of others, this role demands attention to detail, flexibility, and strong event management skills. Exploring related careers like wedding coordination, concert organizing, and conference hosting in the hospitality and tourism sector can also be rewarding.
6. Travel Consultant – $41,500 per year
In the hospitality and tourism industry, a key role is that of the travel consultant or holiday planner. These professionals skillfully engage with clients, understand their needs, and research airlines and hotels to find ideal options. Staying updated is vital to promptly address travel or accommodation concerns and provide suitable alternatives. Understanding people is crucial, as it helps in exceeding expectations with thoughtful additions and building trust for customer loyalty. The field also includes roles such as travel agents, tour guides, and more, contributing to the dynamic nature of the industry.
What are the highest-paying hospitality jobs?
When it comes to well-paying roles in the hospitality sector, different countries offer varying opportunities. Here are some of the top-paying positions that might pique your interest:
1. Hotel General Manager
The role of a hotel general manager encompasses the comprehensive management of a hotel, including supervising staff, handling budgets, and ensuring guests enjoy a positive stay. Typically, hotel general managers earn an annual salary ranging from $100,000 to $200,000.
2. Event Manager
If organizing and executing events is your forte, becoming an event manager might be your calling. From weddings to conferences, event managers orchestrate memorable experiences. This role comes with an annual salary of about $60,000 to $100,000.
3. Sales Director
If you possess the knack for attracting new business, the position of sales director might be your avenue. Responsible for boosting business for hotels and restaurants, sales directors often earn an annual salary within the range of $80,000 to $150,000.
4. Sommelier
If the world of wines fascinates you, a career as a sommelier might be a delightful path. Sommeliers curate wine selections for restaurants and manage their inventory. This role typically offers an annual salary of $50,000 to $100,000.
5. Food and Beverage Director
Overseeing the culinary and beverage aspects of a hotel or restaurant falls under the purview of food and beverage directors. Their annual earnings usually range from $60,000 to $120,000.
6. Executive Chef
For those passionate about the culinary arts, the role of an executive chef provides a platform to lead kitchen operations. With an annual salary typically spanning from $80,000 to $150,000, this role combines creativity with managerial finesse.
Trends Shaping the Industry
Several noteworthy trends are shaping the hospitality and tourism industry:
1. Sustainable Tourism is on the Rise
An increasing number of travelers are becoming mindful of the environmental impact of their journeys. Consequently, there is a growing demand for accommodations, resorts, and tour operators committed to sustainable practices. This trend highlights the industry's growing emphasis on eco-friendly options.
2. Flourishing Wellness Tourism
Today's travelers seek more than mere sightseeing; they yearn for relaxation and rejuvenation. The surge in wellness tourism has led to increased demand for spa experiences, wellness retreats, and health-focused activities. This trend underscores the region's readiness to cater to travelers' holistic well-being.
3. Emphasis on Experiential Travel
Modern travelers are in search of experiences that create lasting memories. This desire has resulted in a surge in demand for immersive activities such as cooking classes, cultural tours, and outdoor adventures like hiking. This trend reflects a shift from passive sightseeing to active participation.
4. Mobile Booking is Becoming Mainstream
The convenience of mobile technology is transforming how travelers plan and book their trips. Mobile devices, especially smartphones, are increasingly used for making travel arrangements. Consequently, there is a growing need for travel providers to offer mobile-friendly websites and applications to accommodate this trend.
Impact and Growth Potential
The hospitality and tourism sector is currently experiencing remarkable growth across various regions, offering promising opportunities for both travelers and businesses. Let's explore the thriving trends in some key areas:
India
The Indian tourism industry is on a path of sustained growth, with a projected Compound Annual Growth Rate (CAGR) of 7.5%. This expansion is being driven by the rise of the middle class and the development of modern infrastructure, making India an enticing destination for both domestic and international tourists.
China
China's tourism sector is poised to expand at a CAGR of 5.8%. Increasing disposable incomes and a surge in outbound travel are the primary factors fueling this growth. As more people have the means to explore beyond their borders, China's tourism industry is reaping significant benefits.
Southeast Asia
This region is captivating travelers with its captivating blend of diverse cultures and natural beauty, resulting in a robust CAGR of 7.2%. From stunning landscapes to rich traditions, Southeast Asia's allure continues to attract tourists seeking unique experiences.
Middle East
The Middle East's tourism industry is forecasted to grow at a CAGR of 4.8%. Its rich history, cultural heritage, and burgeoning business travel contribute to its steady expansion. The region's appeal as both a leisure and business destination is becoming increasingly evident.
As we enter 2023, the APAC hospitality and tourism sector is rebounding impressively from the challenges posed by COVID-19.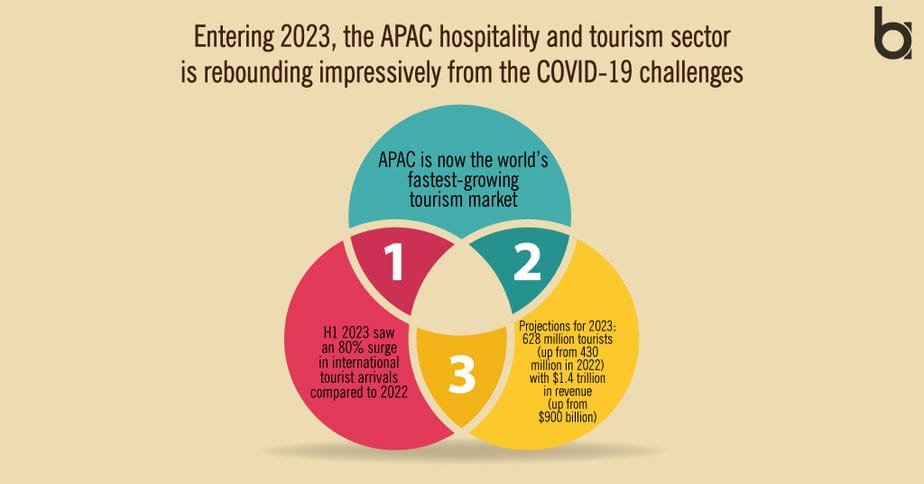 The hospitality and tourism sector anticipates growth while navigating these dynamics.
Overall, the outlook for the hospitality and tourism sector is positive. The industry is set to sustain its growth in the coming years, leading to job creation and boosting the region's economic prosperity.
Essential Skills
A variety of high-paying careers are available in the hospitality and tourism industry, including Food and Beverage Directors, Executive Chefs, and Housekeeping Directors. To excel in these roles, professionals need to develop essential skills, which include:
1. Communication
The ability to express thoughts clearly and listen attentively is crucial for understanding clients' needs and delivering exceptional service.
2. Diplomacy
Managing conflicts and challenges with diplomacy ensures smooth operations and customer satisfaction.
3. Pressure Management
Effectively handling stress and multitasking is essential in a fast-paced industry.
4. Problem-Solving
Analytical skills and attention to detail help find creative solutions to challenges that may arise.
5. Adaptability
Being willing to embrace change and adapt to new technologies and trends is imperative in an evolving industry.
The hospitality and tourism industry has a rich history, offers diverse career opportunities, and has a promising future. As we enter 2023 and beyond, the industry continues to transform in response to changing consumer preferences, technological advancements, and global trends. Professionals and businesses that embrace these changes are well-positioned to shape the industry's evolution and create unforgettable experiences for travelers worldwide.
ALSO READ: A Comprehensive Guide to Rise of Agro Tourism Sector in India