The second Indian to win an Olympic gold medal was born on December 24, 1997. On August 7, 2020, he achieved a national record in Javelin throwing, with a remarkable distance of 87.58 meters. Chopra's gold medal win in Tokyo marked a historic moment for India. He has secured victories in various international competitions, clinching gold medals at both the 2018 Commonwealth Games and the 2018 Asian Games. Most recently, he earned a gold medal at the World Athletics Championship in Budapest. Through Neeraj Chopra's quotes, let's explore the profound insights, motivating thoughts, and invaluable life lessons that this sporting icon has shared during his journey, providing a glimpse into the mindset of a true champion.
"My life became occupied with only a couple of things: go to the stadium and practice, come back home, eat, then go back to training."
"Always believe, Success will not come in one day, but will definitely come one day."
"People keep telling me that the person who wins an Olympic medal will probably become the God of athletics."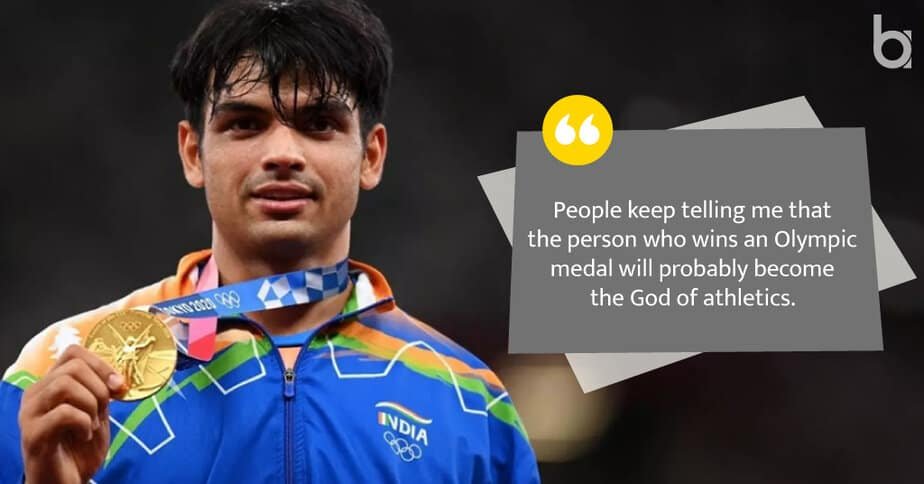 "I try to keep things as simple as possible: my job as a javelin thrower is to stay in good shape and do my best at each competition."
"In the village where I grew up, no one did athletics. For a lot of my life, I didn't even know what a javelin was."
"I just want to say, no matter who the opposition is, give your best. That is all you need to do and this is what this gold medal stands for. Never fear the opposition."
"The biggest learning is that an athlete needs to know when to stop. To know that if I push beyond this, there could be a problem."
"Training makes me happy."
"A person can rise to greater heights in life with the help of these characteristics and discipline."
"Javelin is my identity and I am incomplete without it, but I know I have to be patient."
"My village still does not have a playground. Whenever I stay there, I need to practice on a road."
"The competition was very tough at the Olympics. After qualification, I realized this is the best opportunity of my life and I'll not lose it."
"I knew I had done something special, actually I thought I had achieved my personal best. The throw had gone really well."
"This medal is for the entire country."
"Summer winter or rain; nothing should come in between your aim."
In conclusion, Neeraj Chopra quotes serve as a testament to the indomitable spirit and wisdom of this remarkable athlete. His words inspire us not only to excel in sports but also to overcome life's numerous challenges. His journey from a small village to the Olympic podium stands as a shining example of determination and hard work. As we reflect on his quotes, we discover motivation to stretch our limits, dream big, and attain greatness in our own pursuits.
ALSO READ: 20 Timeless MS Dhoni Quotes: Life Lessons From The Captain Cool