The coronavirus pandemic has taken the whole world aback with its devastating outbreak. The stock markets around the world have fell by massive margins and are experiencing historical rout. The direct impact of this shattered economic scenario is on the jobs. The job security in some of the sectors has already been impacted largely due to this pandemic and it is likely to be endangered in near future also. However, there are some companies, sectors and workers who are benefitting from this tragedy and may benefit in the near future also.
Reasons behind the Disparity
The precautionary measures taken by different countries against COVID-19 are the prominent reasons behind the increasing job disparity. The governments have asked people to remain indoors to stop the spread of the disease and that has resulted in the stop of production for manufacturing companies. On the other hand, some of the software and IT companies have asked their employees to work from home, which is proving to be essential for them as their projects are not stopped. Moreover, due to the restrictions, people are not travelling, dining out, and attending concerts, which is affecting the relevant sectors. Let's have a look at where the jobs stand in the future.
Sectors Exploiting the Scenario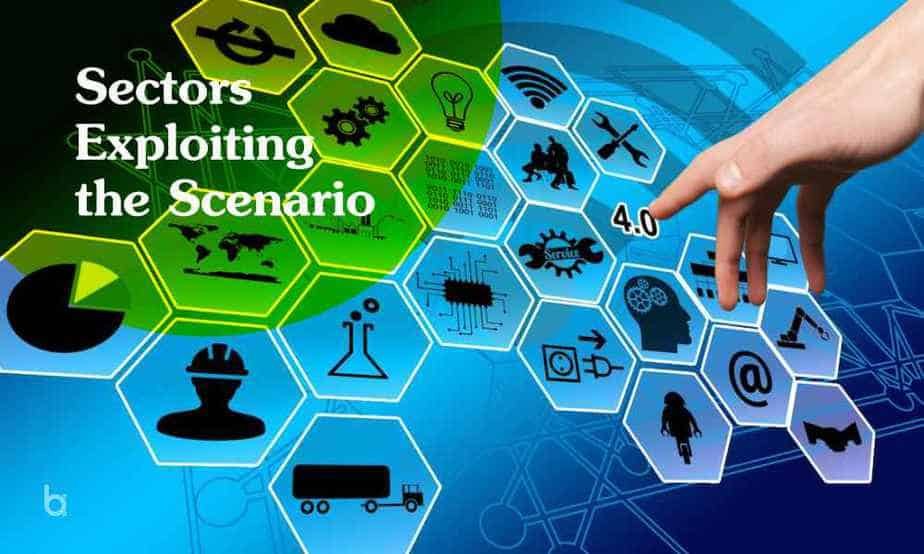 Most of the companies are facing extreme losses due to this pandemic. However, some companies are cashing in on the opportunities generated due to the same. They are as follows.
Online Companies
These types of companies are mostly in benefit as they don't depend on brick and mortar locations to provide their services. Rather, their services are sold online. Furthermore, they can use the facility of working from home to the highest possible advantage. The chain of their projects and services is not broken and hence these companies are gaining big in this scenario
Healthcare Providers
The coronavirus pandemic has obviously posed a huge threat among people. Thus the demand for masks, sanitizers is increasing day in and day out. The pharmaceutical companies that are working to cure diseases, medicine providing companies are gaining big and seem to be walking the merry way in near future also.
Supermarket Chains
The supermarket chains with robust online presence are also gaining a huge profit. As people are not allowed to go outside, the companies with home delivery systems certainly have an advantage. Moreover, many countries have permitted the essential services to remain open even in the lockdown, so the grocery stores will be benefitted and there will be more jobs available in this sector also.
Online Video Games
As people are not allowed to go outside, they are looking for ways to get entertained. Most of the sports events are also cancelled hence automatically, the focus has been shifted towards online gaming. While maintaining social distancing, online video games are also a way to interact with friends and family, and also maintain social relations. Thus the chances of employment in this sector have increased and are expected to increase.
Giant Global Corporations
Large global corporations like Amazon, Google, Microsoft, and Netflix have enormous amount of cash on their balance sheet, thus they will have the fund to outlast the outbreak. Moreover, people working in these fields may find jobs available in ample amount. Online Delivery Company such as Amazon is hiring 100,000 workers due to the overwhelming demand. However, gain in companies like Amazon is alarming for the small-to-midsize retailers.
Sectors likely to shed Jobs
There are number of sectors in which jobs will be savagely cut. Companies in these sectors will be forced to downsize their employees or radically cut the work hours. These sectors are as follows.
Small and Midsize Retailers
As people are not leaving homes, the departmental stores, malls, and speciality retailers will experience huge losses in businesses resulting in shedding off jobs. Big retailers such as Nordstrom, Macy's, and Neiman Marcus have all announced that they are closing their stores. This will result in large amount of retail workers losing their jobs.
Airlines and Travel Agencies
Many countries have imposed both local and international travel bans to restrict the spread of the virus. Companies have also prohibited business travels. Families are also afraid to fly amidst the virus threats. Cruises are local ship transport is also closed for a while. Furthermore, the aircraft manufacturers and suppliers are also facing the heat due to the confronting situation. All these consequences may lead to a void as far as jobs in these fields are concerned.
Hotels and Hospitality
Many hotels, restaurants are closed as a precautionary measure to prevent gathering of large number of people. Though some restaurants are open for parcels and home delivery, the overall business is damaged. Along with the hotels, hospitality sector is also going through damage and that would have a direct effect on the jobs in this field. Challenger, Gray and Christmas, an outplacement firm, says that almost 8 million jobs in the leisure and hospitality sector could be affected. Companies in the U.S. have already announced more than 1000 job cuts due to the outbreak.
Manufacturing Sector
This is probably one of the hardest hit sectors due to the pandemic and the consequences of the same will be visible in future. Three renowned automakers General Motors, Ford and Fiat Chrysler have announced to have suspended operations in their factories in the U.S.. This will have big impact on assembly line workers, management personnel and part suppliers involved in the supply chain. Several other manufacturing companies have also decided the same as a precautionary measure leading to increasing unemployment probabilities in this sector too.
Real Estate
This sector is also expected to face numerous challenges. There is reluctance for prospective renters and buyers to enter apartments and homes to look around. Due to the fear of the disease, potential buyers and renters will be reluctant to go into the home of a person who may have the disease. This will in turn have a huge impact on the employment and jobs in this sector.
To conclude, the job disparity that is already present is only expected to increase in the upcoming months. We have to prepare for the confronting challenges and find ways to cope with them.
Watch here: Businesses After Covid-19 Pandemic