Recognized internationally, the Nobel Prize was established in 1895 by Alfred Nobel and the first Nobel Prize was awarded in 1901. There are six prizes awarded for the work in physics, chemistry, physiology or medicine, literature, economics, and the promotion of peace. Below are the details of the Indian Nobel Prize Winners with their fields that they are being awarded for.
Indian Nobel Prize Winners
1. Rabindranath Tagore
2. C.V. Raman
3. Mother Teresa
4. Amartya Sen
5. Kailash Satyarthi
6. Har Gobind Khorana
7. Subrahmanyan Chandrasekhar
8. Venkatraman "Venki" Ramakrishnan
9. Abhijit Vinayak Banerjee
10. Ronald Ross
11. Rudyard Kipling
12. 14 th Dalai Lama
You may be interested in reading: 16 Most Successful Women Entrepreneurs in India
Rabindranath Tagore – Indian – 1913 – Literature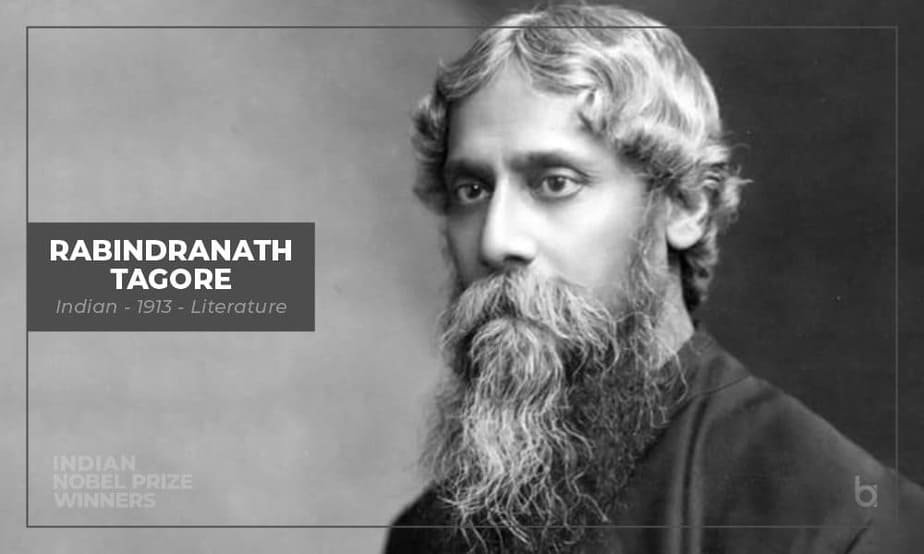 Rabindranath Tagore was the first Asian to Win a Nobel Literature Prize. He was born on 7 May 1861, Calcutta. He's writing is deeply rooted in both Indian and Western learning traditions. Apart from fiction in the form of poetry, songs, stories, and dramas, it also includes portrayals of common people's lives, literary criticism, philosophy, and social issues. Rabindranath Tagore originally wrote in Bengali, but later reached a broad audience in the West after recasting his poetry in English. In contrast to the frenzied life in the West, his poetry was felt to convey the peace of the soul in harmony with nature.
Prize motivation: Because of his profoundly sensitive, fresh and beautiful verse, by which, with consummate skill, he has made his poetic thought, expressed in his own English words, a part of the literature of the West.
C.V. Raman – Indian – 1930 – Physics
On 28 February 1928, Dr. Chandrasekhara Venkata Raman discovered the Raman Effect and won the Nobel Prize in Physics for the discovery. Every year on 28 February, National Science Day is celebrated to pay tribute to the Nobel Laureate Dr. C.V. Raman. He was born on 7 November 1988 in Tiruchirappalli, Tamil Nadu. Because his father Chandra Shekhara Aiyer was a lecturer in Mathematics and Physics, he was exposed to an excellent academic environment. He was an intelligent and brilliant student from his early childhood. At the age of 11, he passed his matriculation and 12th class at the age of 13 with a scholarship.
Prize motivation: For his work on the scattering of light and for the discovery of the effect named after him, "Raman Effect".
Mother Teresa – Indian – 1979 – Peace
She was born in August 1910 in Uskup, Ottoman Empire (now the Republic of Macedonia). Thirty years ago (1979) Mother Teresa left her teaching post at a Roman Catholic girls' school in Calcutta in order to devote her life to working among the poorest of the poor in the slums of that city. Teresa's first year in the slums was particularly hard. One of her first projects was to teach the children of the poor – drawing on her experience with teaching the children of the rich.
Prize motivation: In recognition of [her] work in bringing help to suffering humanity.
Amartya Sen – Indian – 1998 – Economics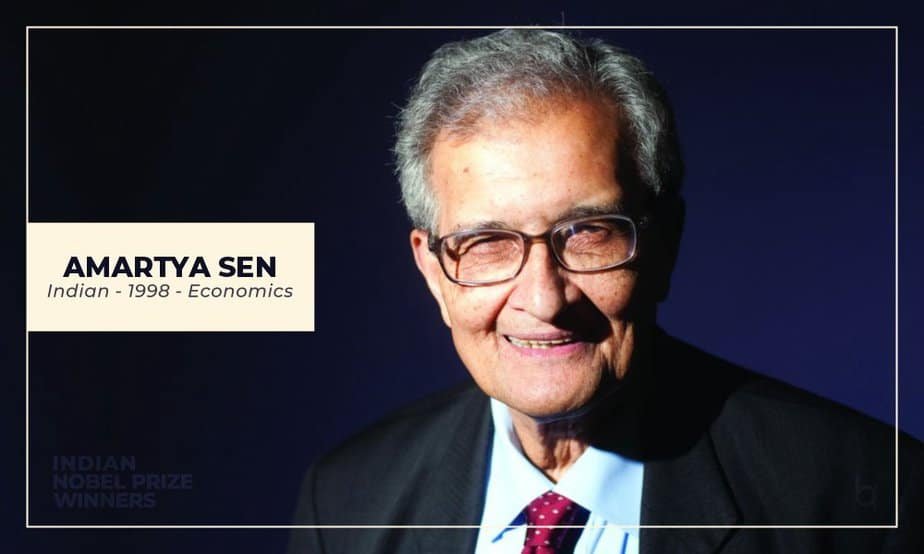 Amartya Sen was born on 3 November 1933 into a Brahman family in Santiniketan, Bengal, in India. After university studies in Kolkata, India, and at Cambridge, UK, where he received his Ph.D. in 1959, he has held professorships in India and at Oxford and Cambridge universities, as well as in the US, including at Harvard University. One focus of Amartya Sen's research is how individuals' values can be considered in collective decision-making and how welfare and poverty can be measured. His contribution; research on fundamental problems in welfare economics and studies of social choice, welfare measurement, and poverty are still influential in several parts of the world.
Prize motivation: "for his contributions to welfare economics."
Kailash Satyarthi – Indian – 2014 – Peace
Kailash Satyarthi was born in the Vidisha district of Madhya Pradesh in India. In 1980, he founded the organization Bachpan Bachao Andolan, which has freed thousands of children from slave-like conditions. To achieve a peaceful world, it is crucial that the rights of children and young people be respected. Following the tradition of Mahatma Gandhi, Indian activist Kailash Satyarthi has waged a peaceful struggle to stop children from being exploited as labor instead of attending school.
Prize motivation: For their struggle against the suppression of children and young people and for the right of all children to education.
Har Gobind Khorana – United States – 1968 – Physiology or Medicine
Har Gobind Khorana was born on 9 January 1922 in Raipur, a little village in Punjab. He attended D.A.V. High School in Multan where Ratan Lal, one of his teachers, influenced him greatly during that period. In the 1950s, it was established that genetic information is transferred from DNA to RNA, to protein. One sequence of three nucleotides in DNA corresponds to a certain amino acid within a protein. How could this genetic code be cracked? After Marshall Nirenberg discovered the first piece of the puzzle, the remainder of the code was gradually revealed in the years that followed. Har Gobind Khorana made important contributions to this field by building different RNA chains with the help of enzymes. Using these enzymes, he was able to produce proteins. The amino acid sequences of these proteins then solved the rest of the puzzle.
Prize motivation: For their interpretation of the genetic code and its function in protein synthesis.
Born in India (another country citizen)
Subrahmanyan Chandrasekhar – United States – 1983 – Physics
Subrahmanyan Chandrasekhar was born on 19 October 1910 in Lahore. In Madras, Subrahmanyam attended the Hindu High School, Triplicane, during the years 1922-25. Beginning in the 1930s, Subrahmanyan Chandrasekhar formulated theories for the development that stars subsequently undergo. He showed that when the hydrogen fuel of stars of a certain size begins to run out, it collapses into a compact, brilliant star known as a white dwarf.
Prize motivation: For his theoretical studies of the physical processes of importance to the structure and evolution of the stars.
Venkatraman "Venki" Ramakrishnan – United Kingdom – 2009 – Chemistry
Venki Ramakrishnan was born in 1952 in Chidambaram. An organism's vital functions are managed by large, complex protein molecules produced in cells' ribosomes. There, genetic information from "messenger RNA" is translated into chains of amino acids that then build proteins. Using a method known as x-ray crystallography, Venkatraman Ramakrishnan and other researchers were able to collaborate to map the structure of ribosomes, made up of hundreds of thousands of atoms, in 2000. Among other applications, this has been important in the production of antibiotics.
Prize motivation: For studies of the structure and function of the ribosome.
Abhijit Vinayak Banerjee – United States – 2019 – Economics Sciences
Abhijit Vinayak Banerjee was born on February 21, 1961, in Mumbai, India. Banerjee studied economics at the University of Calcutta (B.Sc. 1981), Jawaharlal Nehru University (M.A. 1983), and Harvard University (Ph.D. 1988). Indian-born American economist who, with Esther Duflo and Michael Kremer, was awarded the 2019 Nobel Prize for Economics (the Sveriges Riksbank Prize in Economic Sciences in Memory of Alfred Nobel) for helping to develop an innovative experimental approach to alleviating global poverty.
Prize motivation: For their experimental approach to alleviating global poverty.
Ronald Ross – United Kingdom – 1902 – Medicine
Ronald Ross was born in Almora, India, and educated in Great Britain. In 1881 he became a military medical officer in India. In the tropics, malaria is a common disease that causes a high fever and other symptoms. After Alphonse Laveran detected the parasite that causes the disease in the blood of infected people, there were attempts to chart the single-celled organism's life cycle. Since the parasite was found only in blood, researchers suspected that it was spread by blood-sucking mosquitoes and spent part of its life cycle in them. Ronald Ross had mosquitos suck blood from malaria-infected people, and in 1897 he found the malaria parasite at a certain stage of life in the stomach of a certain species of mosquito.
Prize motivation: For his work on malaria, by which he has shown how it enters the organism and thereby has laid the foundation for successful research on this disease and methods of combating it.
Rudyard Kipling – United Kingdom – 1907 – Literature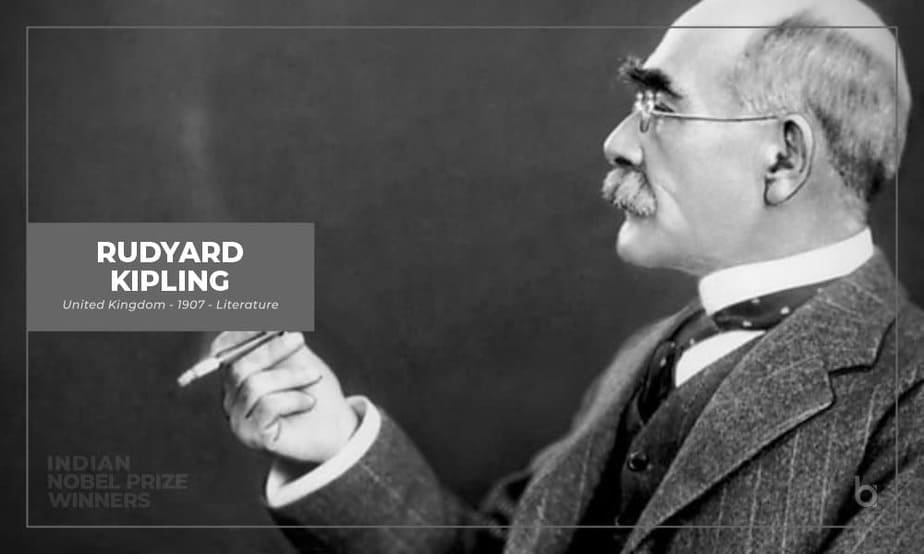 Rudyard Kipling (1865-1936) was born in Bombay but educated in England at the United Services College, Westward Ho, Bideford. His literary career began with Departmental Ditties (1886), but subsequently, he became chiefly known as a writer of short stories. Kipling was the recipient of many honorary degrees and other awards. In 1926 he received the Gold Medal of the Royal Society of Literature, which only Scott, Meredith, and Hardy had been awarded before him.
Prize motivation: For his consistent resistance to the use of violence in his people's struggle to regain their liberty.
14th Dalai Lama – India – 1989 – Peace
From his exile in India, the religious and political leader the Dalai Lama has since 1959 stood at the head of the nonviolent opposition to China's occupation of Tibet. Born on 6 July 1935, Taktser, Tibet, he based his Buddhist peace philosophy on reverence for all living things and the idea of a universal responsibility that embraces both man and nature. The award of the Peace Prize gave the Dalai Lama the opportunity to present a plan for the restoration of peace and human rights in Tibet.
Prize motivation: For his consistent resistance to the use of violence in his people's struggle to regain their liberty.
Generally, The Nobel Prize of India is awarded to Citizens of India. The recipients of the award who are not Indian citizens must fulfil either of the conditions—he/she must be born in India or must be a resident of India.
Also Read: Nobel Prize for 2020 is announced. Here are the winners!