The Boys or Breaking Bad; what are You watching? You do not have to spend hours of your weekends googling the top web series in the world.
It is officially winter, and this is our favorite season to binge-watch. It is now time to look at the best global shows. We have curated a list of the top web series in a world that has broken the internet and gained a massive fan following with their intimidating characters and compelling storylines. Heave a sigh of relief because you can finally decode those trending internet memes and have a hearty laugh. Our suggestion list also includes the 'old is gold' classics of all time (because they are irreplaceable and our all-time favorites).
Keeping peer pressure at bay, here are the top 10 web series you should binge-watch
1. Breaking Bad
Genre: Crime, Drama, Thriller
Star Cast: Bryan Cranston, Aaron Paul, Anna Gunn
"Breaking Bad" is widely acclaimed as one of the finest TV series, lauded for its exceptional writing, acting, and production quality. It has garnered numerous awards, including 16 Emmys. The show's strengths encompass the transformation of its protagonist, Walter White, from a teacher to a drug kingpin, the remarkable chemistry among the actors, the gripping storytelling, and its exploration of moral complexities. It is a must-watch for enthusiasts of crime dramas, thrillers, and character-driven narratives. Moreover, the series imparts valuable lessons about family, greed, power, and choices, leaving a lasting impact on its viewers long after they've completed it.
2. Chernobyl (2019)
Genre: Drama, History, Thriller
Star Cast: Jessie Buckley, Jared Harris, Stellan Skarsgård
The critically acclaimed miniseries "Chernobyl" powerfully depicts the 1986 nuclear catastrophe, vividly portraying the events and their profound human toll. The series achieves meticulous historical accuracy through the use of real footage and interviews, captivating history enthusiasts, science buffs, and disaster movie fans. Beyond its entertainment value, "Chernobyl" imparts essential lessons about the importance of stringent safety regulations for nuclear power plants, the dangers of nuclear radiation, and the need for transparency during nuclear crises. It stands as a compelling narrative, serving as a poignant reminder of the long-lasting impact of the Chernobyl disaster for a broad and curious audience.
3. Game of Thrones (2011-2019)
Genre: Action, Adventure, Drama
Star Cast: Emilia Clarke, Peter Dinklage, Kit Harington
"Game of Thrones" is an epic fantasy series set in the Seven Kingdoms of Westeros. It is known for its intricate characters, unexpected plot twists, and stunning visuals. The show features well-crafted characters, each with unique motivations that draw viewers into their stories. Unpredictable narrative twists maintain suspense throughout, complemented by lavish sets, costumes, and remarkable cinematography. Beyond entertainment, the series imparts life lessons about power, the impact of history, family dynamics, the dual nature of love, and unwavering beliefs. "Game of Thrones" appeals to enthusiasts of fantasy, drama, and intrigue, as well as those who appreciate character-driven narratives and visually stunning television.
4. Succession
Where to Watch: Amazon Prime
Star Cast: Nicholas Braun, Brian Cox, and Kieran Culkin
Jesse Armstrong's satirical black comedy-drama, "Succession," explores the power dynamics within the Roy family as they prepare for the retirement of patriarch Logan Roy. The series stands out for its sharp humor, driven by an exceptional ensemble cast led by Brian Cox as Logan, and its incisive examination of the absurdities inherent in wealth and power. "Succession" combines intricate storytelling with uproarious comedy, appealing to fans of both business dramas and dark humor. It imparts valuable lessons about power, family dynamics, success, and authenticity. This thought-provoking show both entertains and educates, making it a must-watch for those seeking insightful entertainment.
5. Fargo
Where to Watch: Amazon Prime
Genre: Crime, Drama, Thriller
Star Cast: Billy Bob Thornton, Martin Freeman, Allison Tolman
"Fargo" is a captivating American crime black comedy series by Noah Hawley, inspired by the Coen brothers' film. It's set in Fargo, North Dakota, and weaves ordinary lives into extraordinary situations. The series shines with dark humor, witty dialogue, and complex yet relatable characters. Beyond its crime facade, "Fargo" explores the dark side of human nature and the power of redemption. It's recommended for fans of crime dramas, black comedies, and character studies. With sharp writing, complex characters, stylish direction, top-notch acting, and an unpredictable storyline, "Fargo" is a must-watch for those seeking an engaging and thought-provoking crime drama.
6. The Boys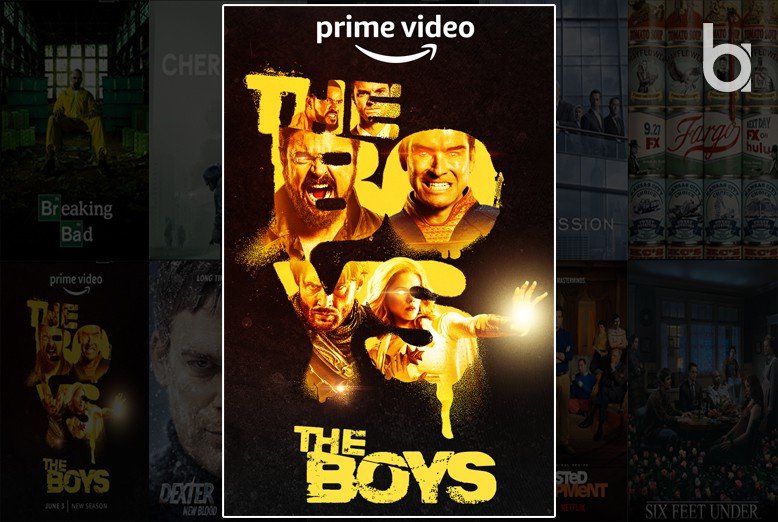 Where to Watch: Amazon Prime
Genre: Action, Comedy, Crime
Star Cast: Karl Urban, Jack Quaid, Antony Starr
"The Boys" is a satirical superhero series created by Eric Kripke and based on Garth Ennis and Darick Robertson's comic book. The show revolves around vigilantes confronting corrupt superheroes. It skillfully blends dark humor with well-developed characters and balances comedy with depth. With a TV-MA rating, it's intended for mature audiences, particularly those who appreciate dark humor, satire, and superhero deconstruction. Categorized as action, black comedy, drama, and satire, it caters to viewers aged 18 and above. The Boys" imparts valuable lessons on power, accountability, anti-heroism, and questioning authority, offering a thought-provoking and entertaining experience in this genre.
7. Dexter
Where to Watch: Amazon Prime
Genre: Crime, Drama, Mystery
Star Cast: Michael C. Hall, Jennifer Carpenter, David Zayas
"Dexter" is an engaging American crime drama created by James Manos Jr. for Showtime. It stars Michael C. Hall as Dexter Morgan, a forensic analyst at the Miami Metro Police who also operates as a vigilante serial killer. The show skillfully navigates Dexter's character, blending his moral code with criminality, and delving into themes of good versus evil, serial killer psychology, and the duality of a monster and a hero. Given its TV-MA rating for graphic content, "Dexter" offers valuable lessons on self-control, the dangers of vigilante justice, and the importance of family. It's a compelling choice for fans of crime dramas and character studies.
8. Dark
Genre: Crime, Drama, Mystery
Star Cast: Louis Hofmann, Karoline Eichhorn, Lisa Vicari
"Dark," a German science fiction thriller written by Baran bo Odar and Jantje Fries, investigates the disappearance of two children and uncovers a generational time-travel mystery. The intricate plot of the show combines science fiction and drama, providing a thought-provoking experience with elements of mystery, intrigue, and horror. "Dark" teaches life lessons like the butterfly effect, family, love, forgiveness, and hope, all while featuring stunning graphics, outstanding performances, and an eerie soundtrack. Fans of science fiction, drama, and mystery should not miss it.
9. Arrested Development
Star Cast: Jason Bateman, Michael Cera, Portia de Rossi
"Arrested Development," the beloved American sitcom, humorously depicts the tumultuous lives of the Bluth family after their patriarch's arrest for fraud. The show is known for its sharp wit, complex characters, and an outstanding ensemble cast including Jason Bateman, Will Arnett, Jeffrey Tambor, Jessica Walter, and Portia de Rossi. Its distinct storytelling approach, with multiple perspectives and recurring gags, distinguishes it. The series cleverly satirizes the wealthy and powerful while imparting timeless life lessons about love within dysfunctional families, the importance of honesty, self-assertion, and the potential for personal transformation.
10. Six Feet Under
Where to Watch: Amazon Prime
Star Cast: Peter Krause, Michael C. Hall, Frances Conroy
"Six Feet Under," created by Alan Ball, fearlessly explores the Fisher family's life running a Los Angeles funeral home. It compassionately and candidly portrays death's realities, humor, and beauty, leaving a profound impact. Universally relatable, it blends humor and poignancy, imparting lessons on death's inevitability, individual grief journeys, open dialogue about death, and cherishing each moment. This series appeals to those intrigued by mortality, fans of Alan Ball, and anyone seeking thought-provoking content that elicits both laughter and tears.
(Fan Theory: Is Poussey's flashback a glimpse into the afterlife?)
Bonus Watches for Your Watch Party
Although we have curated a list of the top web series in the world, we have some more recommendations for you to add to your watch list.
Avatar: The Last Airbender

Death Note

Rick and Morty

The Sopranos

Attack on Titan

Fullmetal Alchemist: Brotherhood

Band of Brothers

Sherlock

How I Met Your Mother
We wish you the perfect weekend. Do not forget to invite your friends for a watch party!
Also read: Top 10 YouTubers in India Who Made It Big